Cancun Limo Services - Reservations
Thank you for your interest in Cancun Limo. Cancun Limo takes great pride in employing chauffeurs with no less than three years experience in the ground transportation in Cancun and Riviera Maya. Cancun Limo has a strict dress code of jacket and tie and a strict vehicle maintenance and cleanliness schedule monitored by the assigned driver and the management staff. Cancun Limo is committed to ensure that every client's travel experience is as safe, reliable and convenient as possible. We take pride in providing the highest level service in the ground transportation industry - One customer at a time. We proudly serve the Cancun Airport and Hotels (cancun & Rivera Maya) with 24-hour private and corporate service for any occasion.
Enjoy peace of mind by booking your ride with Cancun Limo, one of the leading Luxury Transportation operator in Cancun and Riviera Maya!
Also, Cancun Limo offers others services, please click in the link below for reservations.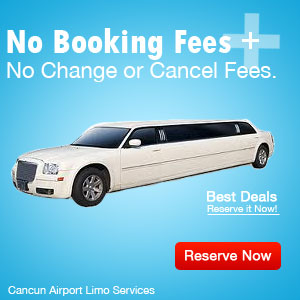 Highlights
Round trip airport transfer in Cancun.
Experienced, friendly and English speaking driver.
No long airport lines.
Cancun Airport Transportation Private.