Cancun School Events Limousine
School Events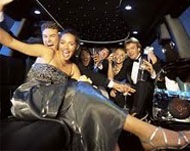 Cancun Limo has a number of custom limousine services for school events in Cancun or Riviera Maya, we know that kids love the style and the parents the safety, you can count on professional drivers and a timely return home.
We provide excellent limousine transportation services for school events around Cancun and Riviera Maya. Cancun Limo provides limousine transportation for any event or occasion, including the high school formal, semi-formal, college, high school level and other school events.
We are the premier limousine service of the best schools in Cancun, and want to provide you with the best school events transportation around.
We have a new and modern fleet of limousines that will have features our young crowds will enjoy such as multi-colored lights, dvd players, and surround sound stereo system. Be assured that you will show up there in style.
Cancun Limo wants to make your school events experiences fun and relaxing, and we want to get you there in style. Our clients deserve the best, in our luxury cars and limousines. When you get to that. High School Prom or formal dance, we want you to get out of the limo looking handsome and beautiful.
No matter what school events activity you are planning, contact us and we will make you look good doing so and provide you with some great memories. Have a great prom!
How it works? To request a quote and make reservations online please fill in the data box is on your right ( Request a Quote ), fill the form with your event and contact details, we match and send it to our top operators in your area.